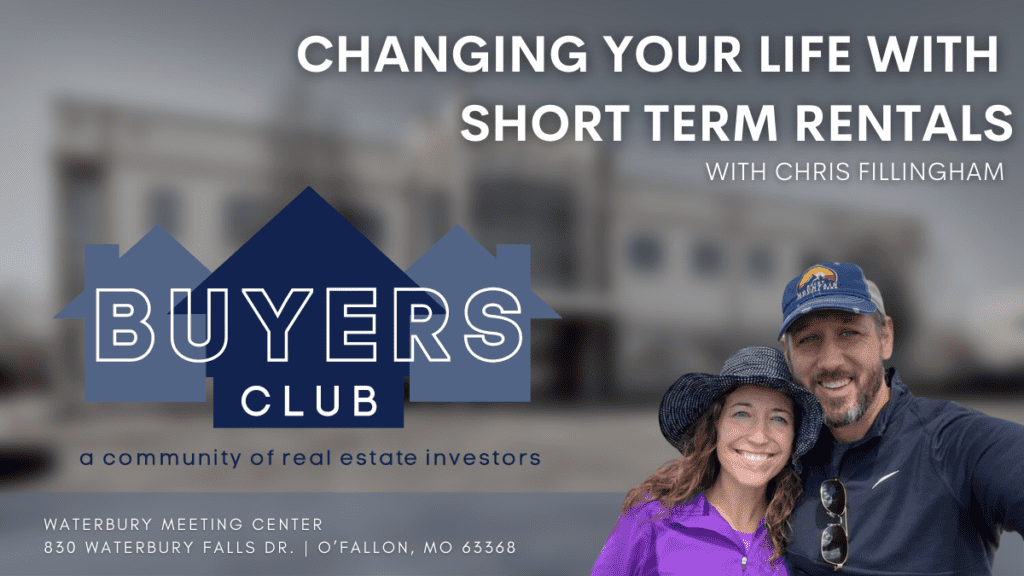 Chris loved his job as a pastor, but struggled to keep up with the bills of a growing family. During the pandemic he decided to buy a house on auction, fix it up, and rent it out to help. At the time, he had no idea that "real estate investing" was a business. He simply knew he stumbled into something he loved. Using OPM (other people's money) he ended up purchasing, flipping, and renting out 6 long term rentals in St. Louis County during the first 12 months of the Pandemic. Each house was slowly changing the life of his family.
BUT, when Chris began to realize it was time to pivot in his career, he knew Short Term Rentals would help him replace his income the fastest.
In this month's meeting Chris will share with you the inspiring story of how he is using Short Term Rentals to replace his income, so that he has the freedom to do work that wouldn't otherwise pay the bills.
You will learn:
What kind of returns can you get with AirBnb's
Reasons to not invest in Airbnb's
How AirBnb's can turbo charge your cash flow
Why Chris has both Short Term and Long Term Rentals
How to run an Airbnb business
How to analyze, purchase, and run Airbnb's
How to creatively finance your next purchase.
How to choose your Airbnb market in 2023.
Chris will also show you all the software he uses to be a one-man-business running multiple properties, only using a few hours a week.
Did you know there are programs that can:
Maximize the price you should charge for each individual day of the year
Automate every single message you send to a guest
Change the codes on your door so each guest has their own code
Communicate all your cleaning needs with your cleaners
Manage a portfolio of properties across AirBnb, VRBO, and Booking.com
Create your own web site
If you have interest in short term rentals or just creating more freedom in your life come on out to the club on February 16th. It will be a ton of fun!
[ Where]
Waterbury Meeting Center
830 Waterbury Falls Dr.
O'Fallon, MO 63368
[ When ]
Thursday, February 16th, at 6 pm
Networking and Food – 6 to 6:30 pm
Discussion / Speaker – 6:30 to 8:00 pm
After Hours Social – join us right after the meeting for networking – there will be a cash (or credit card) bar
[ RSVP / Cost ]
Step 1: RSVP Here
Step 2: If you are a "First Time" visitor – you are finished, see you there!
If you would like to confirm your RSVP and Pay for just this meeting – https://buyers-club.com/one-meeting
If you would like to confirm your RSVP and pay for an Annual Membership to save $150 –https://buyers-club.com/annual-membership